| Item No. | Description | This product is only available to printers and signmakers. |
| --- | --- | --- |
| ET6-6003 | WIRETRIM - FIBRELINE - 30.48M ROLL | Login or Register to view prices. |
Medium-tack adhesive, developed for applications where less adhesive strength is preferred. Contains a braided synthetic fiber filament. Offers excellent cutting strength, and cuts through thick non-abrasive coatings. Conforms easily to compound curves and tight corners. Trim a wide variety of coatings, from medium durometer polyurethane to high durometer polyureas.
FiberLine
FiberLine is a single-sided paper masking tape similar to the original FiberTrim with several technical advancements. A high-strength braided cutting filament is located securely along the outer edge of the adhesive surface and the all new FiberLine is traverse-wound on a plastic spool to prevent damage from rough handling and common workplace contaminants. FiberLine features a low-tack adhesive suitable for situations where the paint finish might be marginal.
FiberLine is part of the WireTrim range.
WireTrim
The main function of WireTrim Edge Cutting Tape is trimming through strong coatings from the bottom up. The method involves the use of a small high-strength cutting filament, adhered to the edge of adhesive tape and positioned on a surface along the desired trim line where the coating is to be applied. After applying a coating, the filament is pulled upwards from beneath the new coating, achieving a clean cut from the bottom up, separating the masking material and tape for easy removal from the border of the new coating. The method produces a perfect edge without leaving a mark or in any way damaging the exposed surface or disturbing the adhesion of the new coating.
Application Process
WireTrim is used to trim many types of coatings. Here the application process is illustrated as WireTrim is used to trim a spray-on truck bedliner.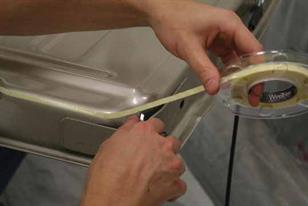 Step One: Applying
Remove wax and silicone from a dirt free surface. Then apply WireTrim along all trim lines. For best results, notch tape to conform to tight corners and gently stretch the tape around curves.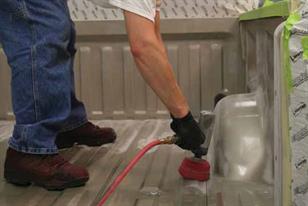 Step Two: Masking & Scuffing
Apply PlazMask, our pre-folded masking film, or masking paper, then scuff right up to the wire edge. WireTrim is durable enough to withstand most prep work. WireTrim's patented technology makes it easy to work fast. The special adhesive permits repositioning if required.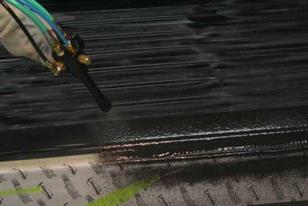 Step Three: Spraying
Proceed to spray the pickup truck bed just as you would normally, directly over the WireTrim tape and any other masking products you used in preparation for the spray job.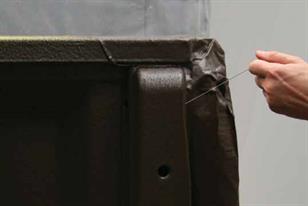 Step Four: Cutting
Pull the wire through the coating to provide a clean finished edge at an angle that suits your style. Choose from standard or heavy duty wire to best suit your application. Always pull wire out as soon as possible after application.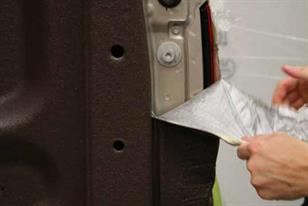 Step Five: Finishing
Remove PlazMask or masking paper and tape to complete the trimming process. Our ProLine products feature a high tack adhesive, remove slowly to eliminate clean up.